By: Gabriela Yareliz
I walked into Claire's to get a birthday gift for a beautiful, bright little girl who is special to me, and it took me on a ride down memory lane.
I remember how much I loved Claire's, as a kid. I liked it more than the Icing because the Icing had mostly jewelry, while Claire's had lotions, glitter, fun photo frames and hair accessories.
Those were my days when I would make mixed tapes by recording songs off of the radio on my purple boombox. I had a blue inflatable airchair, and my walls were wallpapered with inserts and cutouts from Teen Vogue, Teen People (now defunct) and dELiA*s catalogs.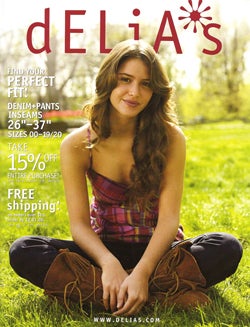 I had my Smackers blueberry galaxy body glitter (glitter on everything!). Watermelon scented lip glosses (watermelon was my favorite) and plastic butterfly hair clips. I had diaries with the Eiffel Tower on them, with those little metal locks that came with two sets of keys.  I wanted to dance like Thalia and dress like Mary-Kate and Ashley Olsen. I wanted Atoosa Rubenstein's job (editor-in-chief of Seventeen Magazine). I typed my own newspapers on a typewriter and devoured American Girl books. Ah, yes. The past. And while nostalgia was triggered– things have changed.
Claire's has changed. It no longer sells the edible Jessica Simpson cosmetics (Dessert, anyone?), and it doesn't have half of the merchandise it used to. Half of the store is made up of cell phone covers and headphones. Children are much more wrapped up in technology, these days. I hope they still wish on stars and cut out things from magazines. I hope they aren't just Snapchatting and taking photos of themselves.
Childhood is special. While we are in it, we are trying to figure out how to be more grown up, and we are dreaming like crazy. Being an adult is beautiful because it's when we become and live everything we dreamed about before.
As adults, I feel like part of our task is to assure children that the phase they are in is amazing and fleeting. Cherish those moments. Live wholesomely. Dream.
The adulthood we live reflects the pieces of glitter we sprinkle around in our childhood. We only get to keep the glitter we dare to spill in our creativity and wild child hearts; so, spill away, children. Spill away. Make magic and keep it.
[Images are linked to source]