By: Gabriela Yareliz
Today, we are looking at the song "Cool" by Gwen Stefani. Can we start off by saying that this song and the music video are a masterpiece? If you haven't seen the video– you must. (Don't worry, it's included at the end of this post).
Why is it a masterpiece, you ask? I mean the song sends a nuanced message about maturity. I want to focus on the story the video portrays– Stefani is visited by her ex and his new lady. Yes. You read that right. And the person who plays the ex's new love interest is none other than Tony Kanal's (her real ex-bf and bandmate) real life partner. Yes, this saga continues. THIS IS NOT A DRILL. Gwen greets them in her GINORMOUS mansion, looking like an old Hollywood icon (this is probably her most fashionable music video, ever).
First things first, this song is about two people who love(d)* each other when they were young. They meet during "the dreaming days," where Stefani says "the mess was made." Then she refers to themselves as children who have grown ("Look how all the kids have grown").
*It's up for debate whether this should be past tense…
The song starts off where she says it's hard to remember how she felt before, you know, now that she has a new last name and new love in her life. (We get it Gwen, you are now married and fabulous). She remarks that it's a miracle that she and this ex remain such good friends after all they've "been through." *coughs* TONY.
Anyway, despite the mature musings as the song begins, what I love in the video is that the minute she and her ex make eye contact, a series of memories starts flashing before us, and we see her and the young guy prancing through what looks like the Italian Lake Como — Stefani looking young, fresh and brunette.
Stefani sings, "Memories seem like so long ago, time always kills the pain," and yet the memories keep flooding in. She then weirdly invites her ex's new lady to sit next to her, and she takes off a ring from her finger and puts it on the new girl. Not sure what the hell that is about. The whole point is they are "cool." Oh.so.cool.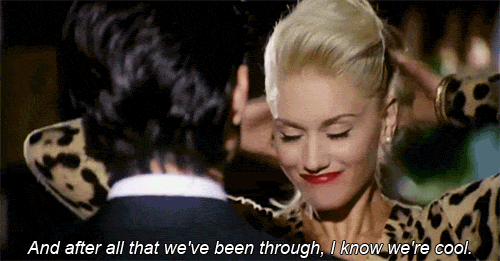 Listen, personally, I am of the school of thought that if you remain super close and good friends with your ex you are slightly psychopathic. I think there need to be boundaries, and people need to move on. Obviously, there are people and certain types of exes that will need to remain in your life like, for example, if you have children together. That person is there to stay, and it's nice if you can have a cordial relationship with that person. Maturity and civility do not equal being best friends. So the first thing I like about the video is its civility and class. It's clear they haven't seen each other in years. She runs her hands through her bleach blonde hair, in a cute reintroduction moment. It's good to be "cool" with someone. That doesn't mean super close and familiar. I mean, "cool" has a certain connotation. There is a distance included in the word.
What I appreciate in this song and video is Stefani's sincerity. The true meaning of this song is more explicitly revealed in the video. If you listen to the song half distracted, you sort of miss the nuance in its message. What is happening in the video is the opposite of what she is saying (and the lyrics themselves subtly reveal this toward the end). She talks about how she doesn't remember and how time heals the pain, but if you pay attention, each time their eyes meet or they drink out of those classy little tea cups, something is happening. She remembers. She is in pain. Stefani has those large dark eyes that reveal all secrets.
The truth is, when you share something special with someone– that doesn't just go away because it ended, even if it ended badly. You can't erase life. Sometimes, as humans, we don't give ourselves permission to be human. It is my belief that when you really, truly love someone, that doesn't go away. Now, things may shift because people may hurt you or people may reveal themselves to be something far from what you thought you loved, but the person you did love, that stays. One can love another and move on, but no one can replace another. That's a fact. That lingering pain and absence we feel is part of our DNA. It means we are alive. If the love you felt toward someone (regardless of whether they reciprocated) doesn't "endure all things," then is it love at all?
Stefani reveals the delusion of her prior lyrics, when she sings, "And I'll be happy for you, if you can be happy for me." This lyric toward the end of the song starts to subtly tie the song to the emotion made blunt in the music video.
The part that gets me is when she sings, "We have changed, but we're still the same." Ain't that the truth. She looks at him with so much sadness. She sings that they are "cool," but she looks broken. She is everything but ok in this video. Then the question becomes whether "friendship" and connection with someone you love and are not with is worth it. Is being "cool" worth it? Is "cool" really "cool"? Is "cool" real or is it a mask we wear while we remember?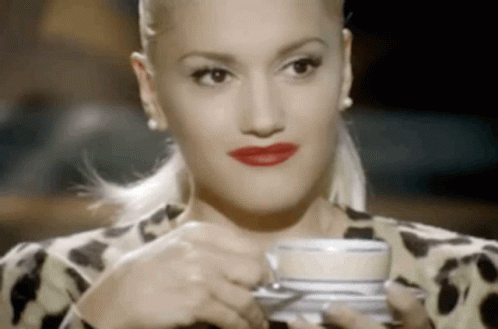 Watch the video, and you decide. Stefani shows us once again that sometimes, as a coping mechanism, the person we lie to the most is ourselves. Interestingly enough, the heart isn't always listening.