By: Gabriela Yareliz
Our next artist mini-series is based on a woman we don't know much about. She barely gives interviews, and to be honest, what we do know about her (or speculate about her) is through her music. Beyoncé. She appeared out of nowhere, it felt like, after her career with Destiny's Child, solo, when I was in junior high. I remember sitting at my friend's table while she finished up breakfast so we could walk together to school. We would see the music videos. That was a thing, back in the day– watching music videos on VH1.
Our song today, "Crazy in Love," was Beyoncé's all star single that put her on the map. It was the opening song to the 2004 movie Taxi. I can see the opening scene of that movie every time I hear this song. (It has been on a zillion soundtracks, since– Bridget Jones and White Chicks, included).
The song was released in 2003, and it was the lead single in Beyoncé's first solo album. Also key to note and common knowledge is the fact that her now-husband Jay-Z is featured on the song. He arrived to the studio at 3 a.m. on recording day, and in ten minutes, he had his verses and contribution to the song ready. (Source)
The song is all about infatuation. That obsessive behavior that can land us in odd behaviors when a relationship is new. Apparently, no one is immune to it, not even Beyoncé.
The lyrics touch on the fact that she doesn't want him to go, and the fact that this love is making her act crazy. I love the line that says, "If you ain't there ain't nobody else to impress." Anyone? In this pandemic, who are we trying to impress? We put makeup and clothes on for no one, these days (except when it's time to see our love). The song remarks her discussing him and her behavior with her friends. We see this idea that she exists in a community of girlfriends and informs them of her thoughts and relationship. (Not everyone operates like this, so worth noting).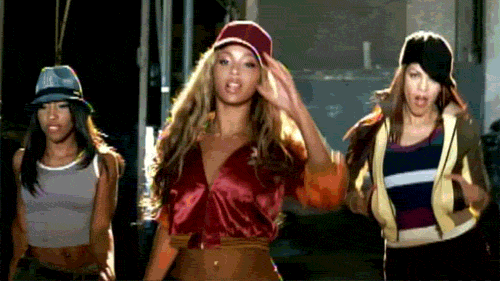 The video starts with Jay-Z introducing Beyoncé to us, and he tells us "history in the making." Looks like he believed in her from the start. Baby Beyoncé walks down a street in heels and booty shorts with incredible confidence. The video is all over the place. At one point she is walking down a street, then she is posing for what looks like a circle of ring lights on a rooftop, then she is chewing blue bubble gum and blowing bubbles (a nice early 2000s touch), then she breaks open a fire hydrant and is dancing in its stream and finally she is doing a choreographed dance in a bright and colorful outfit. There is no apparent theme other than the fact that she is establishing herself as a sex-symbol, and she is marking her territory.
Listen, it's not a deep song. It's a fun one that evokes nostalgia. It reminds us of immature love's beginning, and it documents the beginning of a music legend. The early days. It also presents us with Jay-Z and Beyoncé as a duo, a duo that would later marry, have children, struggle and stay united in an ultimate power couple status. It's their genesis. This is why we start here, as we look at Beyoncé's music journey, so far.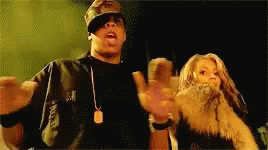 When they recorded this song, I wonder if they knew how pivotal they would be in each other's lives. Do we ever know, right off the bat? Was it love at first sight? When they met was she all like, "lately I'm foolish, I don't do this." Were they crazy in love? Beyoncé's debut album is titled Dangerously In Love. Was this a foreshadowing of what was to come?
Regardless, it's a great pump up song. Have a dance party in your living room. Put on the heels and strut. You ready?
More to come…