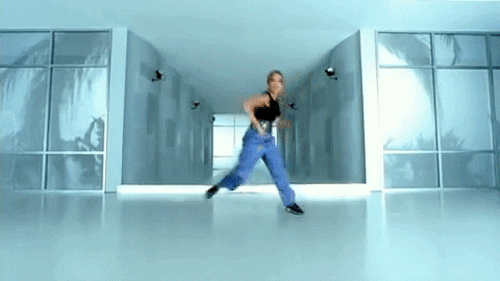 By: Gabriela Yareliz
If we are looking at J.Lo's direct messaging, we must look at "If You Had My Love." The song is fun. It has a great beat, awesome choreography and a nice Latin twist in the middle. (She may not be the most vocally talented, but she always has unique signatures in her music and videos that make them unmistakably J.Lo). This is a song where Lopez clearly delineates some boundaries for a potential relationship. One could think of it as an empowering song for women. She asks a lot of questions many shy away from.
The song starts with questioning :
/If you had my love
And I gave you all my trust
Would you comfort me?
And if somehow you knew
That your love would be untrue
Would you lie to me?
And call me baby/
After the questions, it moves on to her standards and what she will and won't tolerate.
She explicitly tells him she won't have him cheating on her ("Tell me who can I trust, if I can't trust in you. And I refuse to let you play me for a fool.") She goes on to list her desires.
As plain and simple as this song is, it's something people rarely do. You'd be surprised (or maybe not) that there are many partnerships where people are not on the same page, not in agreement about important things, and often, these very important things aren't even discussed. Society has made us feel certain topics are taboo, inappropriate or make us seem crazy (especially women), and yet, one is a fool not to discuss them. It's important for you to be clear on what you want, or someone else will impose their wants or way of operating on you.
I can't stress enough how important these conversations are, and how important it is to be rooted in a sense of self-worth. I recently participated in Terra Newell's Toxic Relationships Retreat, where excellent doctors and therapists spoke on narcissism, attachment styles, boundaries, etc. It was rich in knowledge, but there were times when women in the audience opened up, and all I will say about it is how truly heartbreaking these stories were. There are too many women in this world who have lived and survived a nightmare. There are times where it's tough to know beforehand, (though one speaker did a great job telling us about red and pink flags), but many times, there were glaring signs that certain things in a relationship or person were not ok, and yet they were bypassed.
"So before I do give myself to you, I have to know the truth if I spend my life with you." Lopez sings that she knows her worth, and she isn't just handing that out. ("I don't need the hurt, I don't need the pain.") Part of me wonders how clear she is on that, truly, when she continues to pick men who have track records of cheating and weird pasts. (A-rod being one in the bunch). But respectfully, we turn our attention to ourselves. Our main purpose is to always think about what we can learn.
If you've made mistakes (and who hasn't), it's time to self-forgive and double down on your worth. Is there an important conversation you aren't having? It's not too late to start talking. Something that hasn't been hammered out yet and left sort of hanging over your head like a guillotine? Are there topics that still remain vague? Clarify them. Time to sit everybody down and talk. If you don't know how to do it, J.Lo's song will give you a starting point.