By: Gabriela Yareliz
Today, I am sharing one of those anecdotes one simply does not forget from Born Standing Up, the bio by Steve Martin on his (brilliant) career in comedy. (I am a big fan). The book has a monochrome cover image with the title and his name in bright, sans serif yellow letters.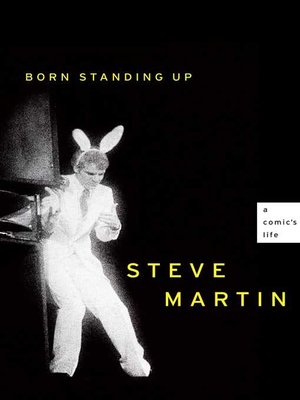 In the chapter "The Road", he recalls when he performed at Vanderbilt University in Nashville. After he was done with his act, the packed room didn't budge. He was confused and knew he needed to pack up his props and things– and the only way out was past the students. He looked at them and let them know, "It's over." Nobody moved. He started making little humorous comments and walking by students, and he wandered into the hallway. The students followed him into the hallway. Martin then walked outside, and the students continued to follow him. Finally, he came across an empty pool, and he told the student audience, "Everybody into the pool!" and they went into the pool.
Martin tells us, "Then I said I was going to swim across the top of them, and the crowd knew exactly what to do: I was passed hand over hand as I did the crawl." (pg 140) He says his comedy entered new territory that night, and it felt free and unpredictable.
As I was reading this, I was laughing at the mental picture– this visual of Steve Martin essentially crowd surfing in an empty pool with students. Epic. It was a colorful story on a white page filled with black ink words and black and white photos. This story was bold yellow, like the letters on the cover.
Perhaps monochrome is elegant, classic; maybe at times it can be lifeless, and at other times it holds a needed place in the middle of color. Life can be very much monochrome. I know so many of us have felt that in lockdown after lockdown. But here is a reminder that even within the circumstances, it's up to us to add the dashes of freedom and streaks of color to the page. If we dare, we may find ourselves in new territory.
"Everybody into the pool!" Steve Martin, Born Standing Up, pg 140