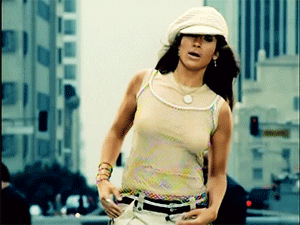 By: Gabriela Yareliz
Jennifer Lopez gave us good club music, like "Waiting for Tonight." (WHO CAN FORGET THE GREEN LIGHTS IN THE MUSIC VIDEO?) A classic. But she has another side to her music that is all about honor. One of the keys we see in J.Lo's music is she is proud of being Puerto Rican and proud of being from the Bronx. New York City is not an easy place to live, much less grow up. Love her or hate her (I respect her), you can't take one thing away from Jennifer Lopez, she has worked so hard to have all that she has. The woman has busted her butt, from movies, to perfumes (can you smell Glow without it being next to you? I can…), to music, and then television– I mean, come on! Not only that, but she did her own thing and included urban flair to her presence, making her a style icon.
The woman is a force. Her songs, "Let's Get Loud" from On the 6, and "Jenny from the Block" from her album This is Me… Then, really encapsulate how proud she is of her roots and how much she feels indebted to them.
In "Let's Get Loud," we have a Jennifer Lopez who is proud to be Latina and not afraid to take up space. She sings, "Presente," marking her presence. It's like, "I'm here." This song reminds me of high school. I was talking in Spanish with a friend, and a teacher told us that when we would switch into Spanish, we got 10 times louder. What can I say, we are passionate people. This song is about feeling the rhythm and music. Something we Latins know all too well. This song was appropriately co-written by Gloria Estefan, a Spanish music legend (she knew the rhythm was going to get us…). A snippet of it was performed recently at Biden's Inauguration. (Source) "Life's a party. Every minute; every day."
"Jenny From the Block" is all about staying humble and remaining in touch with your roots. Ben Affleck makes an appearance. (Bennifer, anyone?) Does anyone else feel like Ben thinks of J.Lo as the one who got away? Anyway. That's a topic for another day…
/Don't be fooled by the rocks that I got
I'm still, I'm still Jenny from the block
Used to have a little, now I have a lot
No matter where I go I know where I came from (South side Bronx, from the Bronx)/
She gives us a little reference to "I'm Real," when she says:
/I stay grounded as the amounts roll in
I'm real I thought I told ya (I'm real)/
The truth is that no matter where you end up, when you succeed, you stand on the shoulders of those who came before you. This is what we call "honra." J.Lo reminds us of this every step of the way. She says it loud. "Boricuas in the house."