By: Gabriela Yareliz
We are bopping today to Gwen Stefani's "Misery," and don't let the title fool you. I am keeping my promise. This is not a sad song. This is not a song about her ex-husband. We left that behind us, and now we have a Gwen who is starting over. This song is the embodiment of the emotions we feel when a crush or love interest is new, or when something is in pre-relationship stage. You know that exciting time that I am talking about. It's that euphoric stage when we are constantly searching the room for that person; it's when we are trying to keep our cool, but we are giddy, nervous and excited– maybe a bit unsure, but we are getting bolder.
We can all relate to that first stanza where she sings, "I'm trying not to care, but where'd you go? I'm doing my best to be sensible." I love the giddiness and bashful reluctance in this song. Also interesting is that she is wearing a head piece at the beginning of this music video that looks like the crown that Lady Liberty wears (#FREEDOM), but as the video progresses, she looks softer and more romantic.
A new love interest feels like drugs to us, Stefani sings. It's someone we come back to repeatedly and want more of. You know, when you keep checking your phone, checking your surroundings, checking your inbox– you can't focus, and honestly, you don't want to. Being with that person is what takes you out of the "misery" of missing them.
What may have inspired this song? (We love to investigate this, don't we?) BLAKE SHELTON. In past interviews, they've spoken about how they were both colleagues and going through a similar divorce, at the same time. They became friends and would check on each other. Then, suddenly, she was wondering if he missed her the way she missed him, when he wasn't around, and vice versa.
In this song, Stefani sings that she feels drawn. She is "thinking things I never thought before." Suddenly, a new window is opening. There is a chance. There is an opportunity to "taste" a new kind of love, and she can't help but want all in.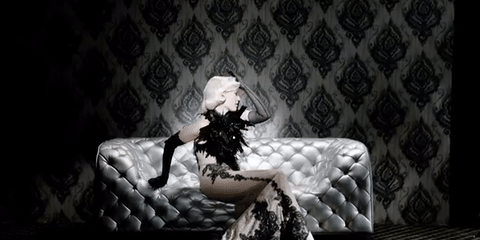 One of the lines in the song says "Enough, enough of this suffering." I think this could have a double meaning. It could be that her misery and suffering stems from this new man's absence and his presence makes it disappear, but it could also be that she is calling on him to help end the pattern of suffering she has endured through her past relationships and history. She wants and needs someone who is different. We see Stefani on a bike looking youthful and her playful smirk as she sings, "you're in so much trouble."
We also see Stefani with a black horse in the video. This may not have been the intention, but given her artistry in past videos, it seems to be a symbol for something. Maybe the death of something old, and now she is venturing into something new. Typically, black horses symbolize mystery and allure, independence and intrigue.
There are times in life when we need something new. We need to allow ourselves to get playful. We need to give ourselves that new opportunity. We need to say "enough of this suffering" and have someone put us out of misery. We can always put ourselves out of misery, but the ultimate vulnerable line in this song is when she says, "So put me out of my misery." She acknowledges that her misery ending is partly in someone else's control, now. It is when the walls come down, and you are ready to look as foolish as you have to look. You are revealing your desires.
It's pretty magical when you do meet that person where you always search the room for them. This song reminded me a little bit of quaratine and lockdowns. I didn't see my boyfriend for a long time, when all of this started. Weeks. It was a crazy time of isolation. I know that I wanted to be put out of my misery. I guess my point is when you find as the French say la bonne personne, your person, this feeling of joy and wanting to be with someone doesn't have to end. It's not limited to the start of something new. An amazing partner makes every day feel like a new day; a day that is best spent in each other's company.
This one goes out to anyone who is taking another chance on love. Stay open to receiving because you just might come across who you are looking for– someone who will put you out of your misery and end the suffering.
Looks like she found him.