By: Gabriela Yareliz
Love can sneak up on us. We can fall in love with someone we didn't expect. Sometimes, it's someone who has been in front of us for a while. Today, we are looking at when love seems to show up as a divine interruption, via Gwen Stefani's "Make Me Like You."
The video was filmed in one take at the 58th Annual Grammy Awards; a very unique performance. (Source) The video starts out looking black and white. She wakes up in the middle of a wreck. Then, she is whisked away into a colorful world where people are reading gossip magazines about her.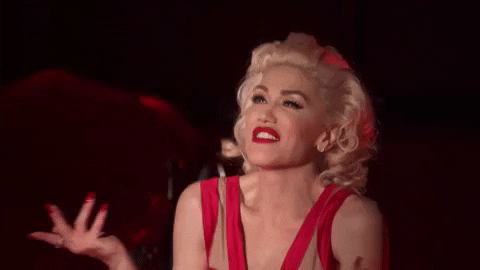 The protagonist of this song is someone who finds love in someone they did not expect, and it intrudes on her reality. Stefani starts by stating that she was "broken but fine," "lost and uncertain" but her heart was her own. The truth is that life is so much easier when you are alone. Being alone isn't hard. The challenge starts when you have to start taking another person into consideration, and each person is a different world with a different set of experiences and expectations. She sings that she was "all alone in a clear view, but now you are all I see." Stefani is right to think that now things are getting complicated, as her heart starts to not just be her own. The truth is, one of the bravest things we can do is love another person.
She mentions she was "broken but free." Here, just like in "Misery," we have a reference to freedom and independence. We have a Stefani, post divorce, seeing a colleague as something more than a friend and colleague. *ENTER BLAKE SHELTON* And this is not an assumption. In the video, there is literally a neon sign on set that reads "Blakey."
She mentions that it's "not fair," acting as if she is under a spell and this is something that he is doing to her, giving us a taste of the fact that she is falling for him and falling hard.
Stefani takes us on a journey about what it's like to suddenly have your life interrupted by the unexpected but good. She details that she can see this relationship progressing, she likes it and can "get used to this." She also, in true Stefani style, says bluntly and honestly, "But I'm so scared." While the lyrics sound serious, the song is playful, upbeat and despite her apparent dismay regarding this man "making" her like him, she keeps repeating, "Thank God that I found you." I love this line. Many of the best things in life, especially the encounters with people who surprise us, could not be planned by us. In fact, some of the most magical things in life are divine orchestration (and I dare say Stefani agrees with me, as a fellow believer and praying person).
This is a new moment for Gwen.
She said she was fine before– but who wants to be just "fine"? The festivities in the video show that while "fine" was ok, it's time to embrace a new possibility– and it's looking loud, exciting and bright. Sometimes, we need to trade fine for FABULOUS. It takes courage, but it can be one of the best decisions you make.
If you have been divinely interrupted and found good in unexpected places (Thank God)– this one goes out to you: