By: Gabriela Yareliz
It's 2022, and I thought, Why not another music series? You all have really liked these. As you know, I am not the person who always has headphones in, listening to music. I am usually listening to a podcast, if anything. (Or, I am talking to my mom or my abuela).
We've looked at deep songwriters like Gwen Stefani, and some artists where their music isn't as profound, but it marks their journey through life (dating, marriages, affairs, loss), see JLO and Beyonce. So as I thought, Who else can we analyze the hell out of? There has been one person on my radar for a while– she has incredible talent as a vocalist and songwriter. A jackpot. She sort of came out of nowhere and is one of the world's best-selling artists– Adele. I remember being in the walkway by the student center at UF. My friend popped her headphone into my ear and was like, Listen to this. We sat there on a bench. We both were solemn. Didn't move. Her unfamiliar voice was powerful and authoritative. It sort of cuts through you. Man, this is depressing, I thought.
I still think that. Her music puts me in a weird frame of mind. It's not something I play often, but there is a lot to be said about it. I recognize that. Her music is something people identify with. There is an element of heartbreak and sorrow to it all, so I feel like her albums are a soundtrack for the broken hearted.
Her first album, 19, was considered an "'essential' blue-eyed soul recording." (Source) She had a tour in 2008-2009, and she canceled some dates outside of the UK to be with a former boyfriend. Key word, "former." I am not kidding. This type of action sort of reflects who she is, someone centered on relationships from a very young age. This isn't something that makes her unique. Most young love has flavors of dysfunction in it, just simply due to the lack of maturity of the parties.
Adele comes off as a suffering old soul mixed with a needy insecure woman due to her voice and lyrics; she sometimes gives me Taylor Swift vibes. She sings with strength, but her lyrics are often riddled with victim red flags. It's that whole, let-me-love-you, you-have-no-idea-how-great-I-really-am vibe. She has done well capitalizing on her sorrows (sometimes self-inflicted). I'll give her that.
She said to Nylon magazine about her canceled tour dates: "I can't believe I did that. It seems so ungrateful… I was drinking far too much and that was kind of the basis of my relationship with this boy. I couldn't bear to be without him, so I was like, 'Well, I'll just cancel my stuff then.'" According to sources, she calls this her "early-life crisis," but if her music is any indicator, I think she has been someone who has perpetually been in crisis (and she brings anyone who will come along for the ride). Recently, she "postponed" (though some say canceled) her Vegas residency amidst rumors of a current volatile relationship with boyfriend, Rich Paul. Maybe some things never change, and people sort of gravitate toward dysfunction.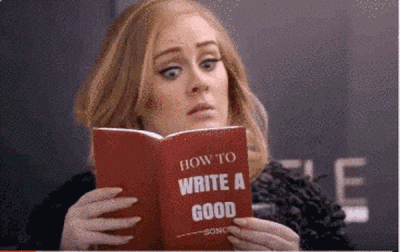 Maybe, I am jumping the gun, though. Unlike with Gwen Stefani (whose obsession and other red flags I pointed out fairly, might I add), I am not a super fan of Adele. I also don't dislike her, either. I am pretty neutral on this one. I want to try to be as fair as possible. So, let's walk through her music, and see what we can gather and learn. If we are smart, there are many eloquently worded lessons tucked away in every belted-out number album that came our way. Maybe, they are lessons on what not to be, but those are lessons, nonetheless. I am intrigued by what makes people so in love with her music.
One of her first singles was "Make You Feel My Love." One thing is certain, no matter which song of hers you listen to, she will make you feel something. Maybe that is what hooks people in.