By: Gabriela Yareliz
As I write this, I am laughing because my air conditioner is failing. (Great timing, AC, great timing). Just as I was going to speak about the aspects of what makes an American summer.
Here are some things I have learned from other people and life experience– one is that there are many countries where children are still in school during the summer. I am not kidding. There are some Asian countries that have school in different installments, by quarter (sort of). School is a year-round thing with some breaks in between the seasonal sessions. Not everyone gets the American summer. School start/end dates differ by region in the U.S. In the North, school often begins in late August and early September and then ends in mid-late June. In the South, school starts in early August and ends in late May or first week of June.
Children in the U.S. get the summers off. Summers are often filled with various activities (unless you are stuck doing summer school– but summer school means you failed something). There are some libraries that do summer reading challenges. Many schools have required reading over the summer for the next school year. Parents get their kids summer review books so they don't forget all the math they learned the previous school year. Also, camp is a big part of American summer culture. *cue roadtrip*
Camps are a great American staple. They help parents out who keep working year-round, and it helps kids get to know other kids and make memories. Churches like mine often have summer camps (I know Jewish brothers have their own camp system), and there are other general (non-religious) camps kids can attend. I have attended art day camps, I was a counselor at a community science summer camp where we did experiments with smaller kiddos, and then there is the general sleep away camp, without the religious element. Most people know what this looks like as it has been featured in movies like Parent Trap. It's that camp with the tents or cabins, a bunch of pre-pubescent girls that love making bracelets, painting their nails with glitter, braiding their hair, jumping off docks into lakes and ponds, canoeing stints and pranks (not as wild as Parent Trap, but definitely pranks).
Camp teaches discipline. There is a morning inspection of the beds and clean-up. At the Bible camp I attended, we lined up with our unit and did morning exercises together. (If you were disciplined, you were asked to do push ups, which you concluded by saying "Thank you for strengthening my mind and body, sir.") My favorite time was mail call, where we received letters from back home (I always missed my mom).
For the kiddos who stay home, there are the day camps, but also, many churches do a free Vacation Bible School (VBS). Each year, the Bible School had a theme, and the kiddos would do crafts, do outdoor activities and sing new songs that they would then perform at the end of the camp. I remember one year, the theme had to do with ocean animals, and we got these little plastic fish in a small net bag, and there was a little blowfish figurine I was obsessed with). While Vacation Bible School had outdoor activities and elements, we spent a lot of time indoors learning Bible stories and singing and crafting in cool rooms. I remember I helped out at my cousin's church's VBS. Between kitchen duty (snack time and lunches), I would sit in the nice cool yellow kitchen or in the large fellowship room reading my summer reading book,The Odyssey. Something that makes an American summer distinct is the constant air conditioning. This is unique.
I have spent time in Europe in the summer, and well, the environment was very much subject to the breeze entering through the windows. An Italian YouTuber I like mentions how warm the summers can get in Tuscany. It's a fact that not many countries have the constant modern comfort that is air conditioning. (Hell, even some New York Schools don't have central AC). It is a thing.
People say that the heat of a Florida summer is unimaginable, but the truth is, because one is often in a car or inside, you only feel the heat when you are going from one place to another (unless you are gardening or have a broken central AC system). New York is more European (or just simply old) in that central AC doesn't exist outside of luxury new buildings with exorbitant rents. These days, with the state of the economy, many businesses are shutting off their AC (Bed Bath and Beyond just announced that they are shutting off their ACs in summer suicide). This is a weird thing here. And I promise you, if it is a hot summer day, customers won't stay long. The truth is, we aren't used to the heat. We just aren't. We are used to cool air that dries the skin and eyes but makes it so that we can take steamy hot showers year-round and feel cozy and good. We cook and don't break a sweat in the summer. (Except here in New York City. Sigh.)
Something else that I think makes the U.S. pretty unique is the amount of families that have a pool. Doesn't matter if it is underground or above-ground– this is a unique thing. In Europe, some stately homes have pools, and they are often below ground from what I have seen, older structures filled with dark teal water.
Having a pool is not something reserved for old money, resorts or the rich. Average middle class families have private pools. I grew up swimming in our neighbor's pool in Michigan. We had many an afternoon playing Marco Polo and throwing balls at each other. Our wet jeans on the fence or line getting stiff and drying in the summer sun.
Along with the American pool comes the grill. I don't think anyone else has quite the BBQ culture we have (and I know other countries do BBQ, but I feel they often imitate the southern BBQ flavors and culture). Along with that, the South is known for its iced teas and fresh fruit cobblers and pies. Open a Southern Living magazine, and you will see what I mean, set at a table with red, white and blue.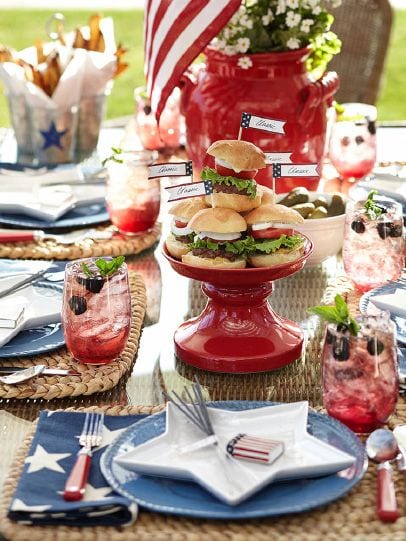 Summertime is a patriotic time. With Fourth of July around the corner, it is worth mentioning that summer is a time to be outside with family celebrating. We celebrate freedom, and we celebrate sacrifice.
An American Summer has a lot to offer anyone whether it is free library books, a pool (YMCA, neighbors and country clubs and other places have general pools you can enjoy if you don't have one at home), churches/places of worship and schools often have activities and there is a whole array of camps to choose from.
Just like the ubiquitous AC, there are so many things I feel are distinctly ours that are starting to change or fade. Libraries with fewer hours and fewer quality books of value, camps stop running due to COVID or sadly, crazy scandals… This leads me to wonder, if we lose the things that distinguish our way of life, does that mean that we stop being who we are?
When I think of summer, I think of camp. I come back to camp. Summer at camp changes us. (I know it changed me). We learn so much about ourselves and the world. Camp teaches us that it's not always about what happens during most of the year, like school, but it is about what happens in the "in between."
Summers in the U.S. are simmering with American Wealth. After a summer of the outdoor adventures, fireworks and delicious food, we return to an air conditioned school a little tanner, taller and with a colorful friendship bracelet around our ankle that still hasn't broken off (and if we are lucky, with a couple friendships that will never break).