[Image from GQ]
By: Gabriela Yareliz
A note taken from Chrissy Teigen and John Legend:
Can we admit that Chrissy Teigen and John Legend are an amazing pair and hilarious couple? Their chemistry; their banter; their sense of humor. More than a couple; they are a marriage.
They are very much a golden marriage, and yet I was thinking that we see them in all their glory (as we often see other couples). We see them from the only perspective we have– the outside.
Chrissy likes to share, and in past years, she has shared details about her relationship with John that I thought were interesting.
When we look at them now, we don't see the moment when John tried to break up with Chrissy because he didn't feel ready to be in a relationship.
We don't see them when they suffered because of the distance between them.
We don't see Chrissy when she wants to argue and John "de-escalates" her, as she said in an interview once. He apparently knows how to soothe her and disarm her.
We don't see them discuss the fact that Chrissy doesn't want John having other music "video hoes" featured (her words, not mine). She admitted this was a sore issue spot that they were still working through. They have implied they go to therapy.
[For Gotham Magazine]
I really like Chrissy Teigen. She is vocal, feisty, funny and strong.  She has her own thing going on, and if you have heard and watched the "All of Me" music video, it's clear her husband adores her. Because even when he is losing, he is winning (the best lyrics ever).
I think what most of us like about her is that she is real (she shows us photos of her stretch marks, for crying out loud), and in interviews she has given us a glimpse into hers and John's relationship. It's a relationship that we see shine, and still, she importantly reminds us how much work goes into a relationship.
Relationships are hard work.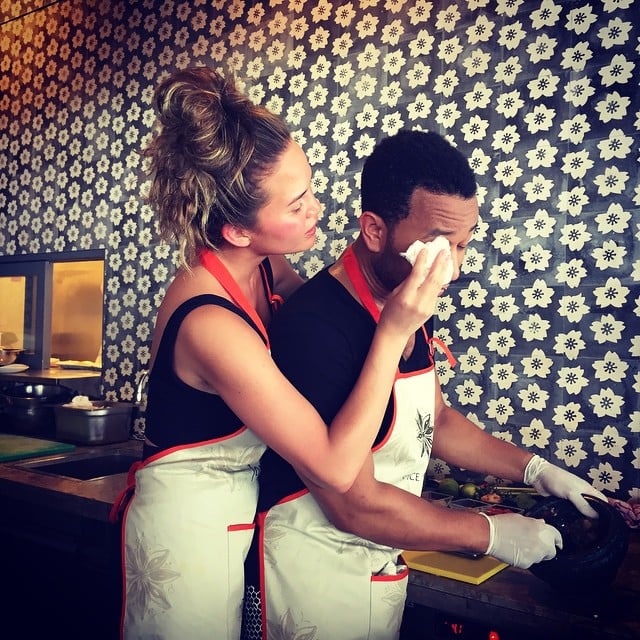 [Image from Popsugar]
[Image from Refinery29]
When two people come together, it's two worlds. It's each person adopting what is important to the other. This takes words and actions. It's both people taking time they would have dedicated to themselves or their pre-relationship routine and making it a time of building a new life or routine. It's about mixing two worlds and having important people on both sides meet each other. It's about mixing two worlds and retaining who you are, while also compromising at times.
It's about bringing up sore issue spots and finding solutions. It's about respect. It's time and lots of communication. It's commitment.
It's all of that, and let's not forget, some magic. Because where there is love, inevitably, there is magic. It's the magic that shines through and makes all the hard work worth it.
[Image from Style Caster]